CJ Smith had just taken a video of his rainy view along the San Clemente coast Wednesday morning when there was an ominous rumbling sound.
"I heard a noise and felt the building kind of shake a bit," said Smith, 41. When he looked back outside his oceanfront apartment, the hillside behind a neighboring unit was gone.
"A bunch of dirt and everything just went down to the [beach] trail" that sits below the bluff, he said.
Newspaper Ads Canyon Crest CA
No one was injured in the landslide, but at least four buildings in the 1500 block of Buena Vista — including Smith's — were evacuated and red-tagged. San Clemente Mayor Chris Duncan said he wasn't sure how many people were forced from their homes, but the four buildings include 20 units, though some are vacation or second homes.
Some of the buildings were initially yellow-tagged, meaning they were damaged but still accessible to residents, but Duncan said officials had concerns that the hillside was still not settled — especially with the chance for more rain in the coming days.
"There's still a significant amount of moisture out there," Duncan said Thursday morning. "The geologist was very concerned about the four structures that we've red-tagged, because the hillside was continuing to move. It's very much a dynamic situation, and we're going to continue monitoring this."
Though the next few days should be much drier, the National Weather Service is forecasting more rain early next week.
"Anyone along this stretch, in particular," Duncan said, "should be vigilant and be prepared to potentially evacuate because we have more rain coming."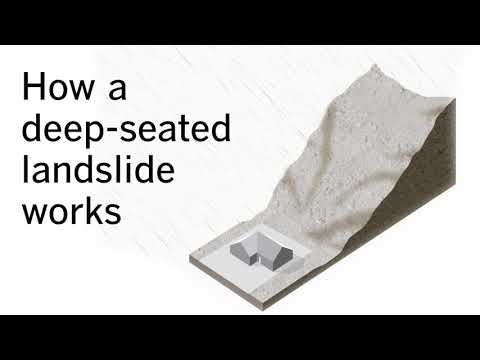 Animated infographic shows how debris flows and deep-seated landslides happen
This landslide came a day after Orange County officials declared a state of emergency following several moisture-heavy storms, which had already caused an earlier landslide in Newport Beach, along with other damage. That home, which was also red-tagged, was demolished Thursday.
Gov. Gavin Newsom expanded his state of emergency Tuesday night to include Orange, Alpine and Trinity counties, meaning 43 of California's 58 counties are now covered by the declaration.
At a news conference Thursday afternoon, U.S. Rep. Mike Levin said a request he'd made to President Biden to include Orange County in the federal emergency declaration for California had been approved.
"That declaration will allow the federal government to provide emergency resources that will come directly to this community and help our residents," Levin said. The San Juan Capistrano Democrat also promised to keep pushing for longer-term resources, which could be used to help people permanently relocate and to better study the shifting coastline.
Duncan said the additional resources would help the city respond to the landslide and displaced residents.
"Frankly, we have to be prepared for residents being out of their home for sustained periods of time, and they're going to need assistance," Duncan said. "We have bluffs all along our coastline in San Clemente, and all structures on top of bluffs are potentially at risk."
Smith, a lifelong San Clemente resident, said he and his girlfriend were staying in a hotel but hoped to get back into their apartment soon. His building wasn't noticeably damaged from the landslide; its retaining wall in the bluff was still intact, he said.
But when he walked down to the beach early Wednesday to view the damage, he could see the foundation of a pool on a neighboring property exposed, and much of its backyard — including a tent and furniture — was strewn down the hill.
"You could see there was still settling," Smith said. "It was still moving."
The Orange County Sheriff's Department remained at the scene Thursday to provide security, Duncan said. Non-residents were not allowed onto the block.
Metrolink officials were notified of the landslide, Duncan said, although it had not affected the section of the railway that runs below the red-tagged homes, which Metrolink shares with freight trains and Amtrak. This fall, heavy rains caused shifting along San Clemente's coast, suspending passenger rail service on the tracks between Orange and San Diego counties. Metrolink and Amtrak have since resumed limited service on weekends only.
In 2019, a landslide knocked out a portion of a bridge along the beach trail — not far from the location of Wednesday's landslide.
After this week's slide, officials cannot do much to stop the bluff's movement, so they are focused on safety, Duncan said, noting that the beach trail below the landslide had been closed.
"This is a really traumatic experience," he said. "But really it's up to Mother Nature if there's more movement on the hillside."
Construction workers worked Thursday to fence off the four red-tagged structures.
Sal Olvera and his girlfriend returned to their apartment to try to grab some last-minute items, painting supplies and other possessions.
"When the landslide happened, we both looked at each other and said, 'This could be the end of California for us,' " said Olvera, 55.
The couple own another home in Montana but rely on occasionally renting out their beachside San Clemente apartment.
They stayed the night at a hotel, but Olvera wasn't sure if he would ever be able to live in his apartment again.
"I've never been in this situation before," he said. "So what do I do? I at least need my tools to continue making money as a painter."
Alex and Becca Heumann were in a similar position — but they don't have a second home to fall back on. For now, they were staying with family, but they weren't sure what the future would hold. Alex Heumann said they were told Thursday they wouldn't be able to get back into their unit, indefinitely.
"There is a lot of structural uncertainty, so they're trying to figure out what's safe," he said. "Who knows if we can go back there?"
The couple lived in the building that lost part of its patio to the landslide, a space they used frequently with their neighbors.
"It was like one of those movie situations, like, we got to get out of here right now," he said.
Heumann said they awoke Wednesday to what he first thought was loud wind but then felt shaking. He went outside and noticed the damage to their patio, then smelled natural gas, prompting them to pack up important documents and necessities as fast as they could.
"We woke up, and then we were like, 'OK, this is really scary,' " he said.
A few units down from the red-tagged homes on Buena Vista, Arthur Rosen pulled into his parking space Thursday afternoon.
Like many others on his street, the unit he owns is a second home.
Even though it's not red-tagged, Rosen was concerned about the possibility of another landslide, especially with rain in the forecast for next week.
"The building itself, as far as we know, is built on big caissons that are supposed to go down to bedrock," he said. "That should hold the building up, but that doesn't mean the bluff won't fall. I defer to the experts."
Smith said he was trying to focus on the positive, thankful that nobody was hurt.
"The question now," he said, "is when will it be safe, and what are they going to do to stabilize the cliff?"
Reach Out
Don't hesitate to reach out to us to discuss your specific needs. Our team is ready and eager to provide you with tailored solutions that align with your firm's goals and enhance your digital marketing efforts. We look forward to helping you grow your law practice online.
Our Services:
Blog Post Writing
We do well-researched, timely, and engaging blog posts that resonate with your clientele, positioning you as a thought leader in your domain.
Content Writing
Beyond articles and content for blogs, we delve into comprehensive content pieces like eBooks, and case studies, tailored to showcase your expertise.
Website Content Writing: First impressions matter. Our content ensures your website reflects the professionalism, dedication, and expertise you bring to the table.
Social Media Management
In today's interconnected world, your online presence extends to social platforms. We help you navigate this terrain, ensuring your voice is consistently represented and heard.
WordPress Website Maintenance
Your digital office should be as polished and functional as your physical one. We ensure your WordPress site remains updated, secure, and user-friendly.
For more information, ad placements in our attorney blog network, article requests, social media management, or listings on our top 10 attorney sites, reach out to us at canyoncrestguide@gmail.com.
Warm regards,
Whether you're a startup or an established brand, business directories offer an affordable, yet powerful tool to elevate your brand recognition and reach. Sign up, stand out, and let your business soar to new heights, sign up to one of our directory websites:
Canyon Crest Directory
Riverside Ca Business Directory
The Riverside Coupon Directory
Newspaper Ads Canyon Crest CA
If you have questions before you order, give me a call @ 951-235-3518
or email @ canyoncrestnewspaper@gmail.com
Like us on Facebook Here
Canyon Crest Guide
5225 Canyon Crest Drive Ste.71 #854 Riverside CA 92507
Tony Ramos 951-235-3518
For great backlinks to your website sign up to one of our directory websites:
Canyon Crest Directory
Riverside Ca Business Directory
The Riverside Coupon Directory