TEMECULA, Calif. /California Newswire/ — Publishers Newswire (PNW), a news publisher covering books, music and software launched in 2004, has announced its semiannual "books to bookmark" list of six new and interesting children's books from small publishers and self-published authors in North America published over the past year. These children's books are often overlooked due to not coming from major traditional book publishing houses.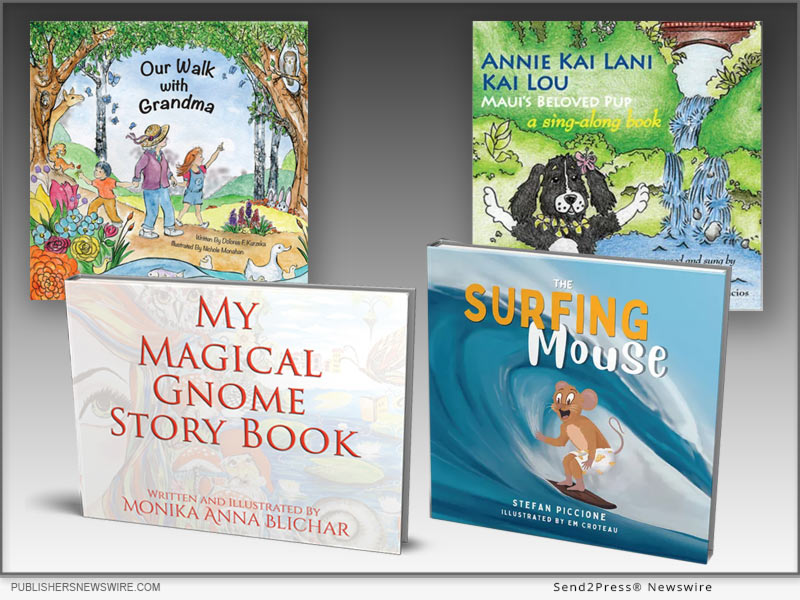 "Generally our semi-annual round-ups comprise all topics," says PNW editor and publisher, Christopher Laird Simmons, who has worked in the publishing world since the late '70s, and is also CEO of the website's parent company, NEOTROPE®. "But we decided to do a list specifically of interesting children's books from the past year 'worth a look.'"
Herewith are 6 interesting reads worth a look (alphabetical order, based on book title):
Newspaper Ads Canyon Crest CA
Children's sing-along book author and vocalist Bridget Burton (pen name) known in her community as Barbara Burton Graf, recently published her second children's book "Annie Kai Lani Kai Lou: Maui's Beloved Pup" (ISBN 978-0989562416; Softcover). The illustrated book, designed for early readers, is captured in both a soft cover print, eBook (Kindle) and video/cartoon versions and includes upbeat Hawaiian music with steel guitar and ukulele and vocals by the author herself. Learn more: https://publishersnewswire.com/music-and-arts-authors-second-childrens-sing-along-book-launches-with-a-give-back-campaign-supporting-pet-adoption/
Magic is everywhere, you just have to believe. Follow Edy the gnome on his whimsical adventures in the human world, while he tries to save the last Golden Believer left on earth. "My Magical Gnome" (ISBN: 978-0228860136) by author Monika Blichar is a delightful storybook that can be enjoyed by the young and old alike. Learn more: https://publishersnewswire.com/publishing-a-magical-gnome-makes-his-way-to-earth-just-in-time-for-christmas/
"Our Walk with Grandma" (ISBN: 978-1039145450, FriesenPress) is both fun and educational. It shares a cherished time of a grandma and her grandkids enjoying a beautiful walk together while learning about the surrounding nature. It's written by Dolores F. Kurzeka, delightfully illustrated by Nichole Monahan and posthumously released by her children to honor her memory. Learn more: https://publishersnewswire.com/publishing-new-book-our-walk-with-grandma-by-dolores-f-kurzeka-showcases-that-fun-multigenerational-walks-create-memories-that-transcend-generations/
"The Children of Light: Book I" (ISBN: 978-1958377017; paper) is a picture book for children by co-authors Elizabeth and Adetoro Adekunle. The book follows the fun adventures of 4 friends who live in West Africa, as their town works on regaining electricity which was later obtained with solar power. Published by The Black Girl Judge Company LLC. Learn more: https://publishersnewswire.com/publishing-the-children-of-light-book-i-is-a-new-adventure-picture-book-for-children/
"The Surfing Mouse" (ISBN: 978-0228872313) is a children's story about a brave young mouse who overcomes his fear of surfing big waves. Everyone's afraid of something, which is why author Stefan Piccione wanted to show audiences how determination, strength, and a strong belief in yourself can help you overcome your fears and achieve your goals. Learn more: https://publishersnewswire.com/publishing-surf-is-definitely-up-in-stefan-picciones-new-childrens-book/
In Adrian Lortie's debut novel "Zoe and the I Can't Monkey" (ISBN: 978-0228889755; March 28, 2023), we explore the importance of children developing healthy communication skills and learning to deal with negative emotions at a young age through a fun, educational story. Learn more: https://publishersnewswire.com/publishing-zoe-and-the-i-cant-monkey-by-adrian-lortie-an-uplifting-story-about-positive-self-talk-and-confidence-for-children/
MORE INFORMATION:
Learn more about additional books you've probably never heard of here: https://publishersnewswire.com/pnw/book-news/
ABOUT PUBLISHERS NEWSWIRE:
Publishers Newswire is an online publication founded in 2004, part of the Neotrope News Network, covering books and publishing, music and software news. Publishers Newswire does not endorse, "recommend," or review any of the book titles mentioned, and the specific books mentioned are for informational purpose only. No fee or other consideration was paid for inclusion in this list.
ABOUT NEOTROPE:
Neotrope has been in the publishing business since the late 1970s, when then teenage founder Christopher Simmons published first "The Comic Collectors Comic Checklist" sold at the San Diego Comic-Con. The company went on to publish "The Galaxy of Fandom" a one-off entertainment magazine, and later "The Adama Journal" a fanzine for "Battlestar Galactica." In 1982, "The Unicorn Hunters Guidebook" was featured in Playboy magazine. In 1987, a fanzine for "Star Trek: The Next Generation" called "Galaxy Class" launched. In 2008, the company published "FRACTOPIA" a coffee table art book by Simmons (ISBN: 978-0971055506; Neotrope Press).
The company publishing unit was originally called Silver Unicorn Graphics (S.U. Graphics and Marketing), became Mindset Press in 1987 and Neotrope Press in 1997. The Neotrope News Network was launched in 2004.
The company is also a leader in online advertising and marketing, public relations, music/video and multimedia. Neotrope is based in the Southern California wine country of Temecula. Neotrope® is a registered trademark in the U.S. and Europe. The company celebrated its 40th anniversary Jan. 2023.
Christopher Simmons has been a working journalist since 1984 when he sold his first article to POLYPHONY magazine. Later writing for diverse pubs including Computer Player, Digital Imaging, Micro Publishing News, Spazz, the Graphic Artist's Guild newspaper, among many others. He has been widely interviewed on topics related to technology, marketing, health and entertainment.
Learn more about Neotrope at: https://neotrope.com/ (website under reconstruction 2023).
NOTE: NEOTROPE does not publish any of the books mentioned in this press release nor represent any author or publisher in an agency capacity. For questions about any of the books mentioned contact the author or publisher directly and not this website.
Learn More: https://publishersnewswire.com/
This version of news story was published on and is Copr. © 2023 California Newswire® (CaliforniaNewswire.com) – part of the Neotrope® News Network, USA – all rights reserved.
Information is believed accurate but is not guaranteed. For questions about the above news, contact the company/org/person noted in the text and NOT this website.
Source link
Whether you're a startup or an established brand, business directories offer an affordable, yet powerful tool to elevate your brand recognition and reach. Sign up, stand out, and let your business soar to new heights, sign up to one of our directory websites:
Canyon Crest Directory
Riverside Ca Business Directory
The Riverside Coupon Directory
Newspaper Ads Canyon Crest CA
If you have questions before you order, give me a call @ 951-235-3518
or email @ canyoncrestnewspaper@gmail.com
Like us on Facebook Here
Canyon Crest Guide
5225 Canyon Crest Drive Ste.71 #854 Riverside CA 92507
Tony Ramos 951-235-3518
For great backlinks to your website sign up to one of our directory websites:
Canyon Crest Directory
Riverside Ca Business Directory
The Riverside Coupon Directory