WASHINGTON — 
A sealed indictment was handed up in Fulton County, Ga., Monday from a grand jury hearing evidence of alleged efforts to overturn the 2020 presidential election by former President Trump and his allies.
It will be unclear who is named or what the contents are until the indictment is processed, filed and publicly posted by the court clerk, a process that could take hours. A total of 10 indictments were handed up to Fulton County Superior Court Judge Robert McBurney on Monday night.
Fulton County Dist. Atty. Fani Willis launched the probe in February 2021 after news broke that the former president was recorded during a Jan. 2, 2021, phone call pressuring Georgia Secretary of State Brad Raffensperger to "find" him 11,780 votes, enough to win reelection. Trump has insisted that making the call was appropriate.
Newspaper Ads Canyon Crest CA
The investigation also focuses on a plan to assemble a slate of fake electors to meet in secret at the state Capitol to cast votes for Trump despite Joe Biden having won a majority of votes in the state, and to use the competing slates to throw Georgia's result into turmoil when Congress met to certify the election results on Jan. 6, 2021.
A special grand jury that heard evidence in the case for roughly seven months recommended more than a dozen people for indictment, and its forewoman hinted in an interview with the New York Times in February that Trump was among them. Willis needed approval from a regular grand jury, which voted Monday to bring charges.
Willis, a Democrat, was reportedly focused on charging Trump and his associates under Georgia's Racketeer Influenced and Corrupt Organizations Act, allowing her to prosecute numerous people allegedly involved in a potentially wide-ranging criminal scheme. The act is broader than the federal RICO law. Nearly 20 people have been informed that they could face charges in the investigation.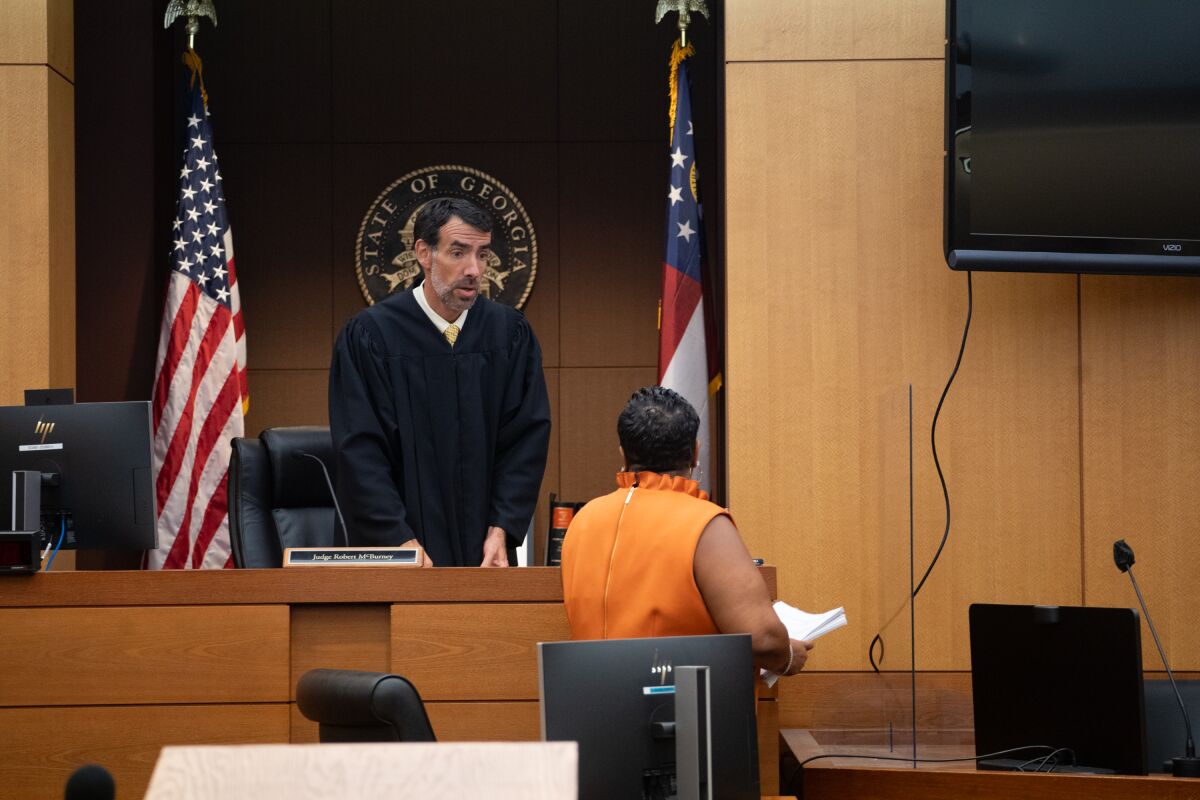 In a Truth Social post in early July, Trump sparked speculation that a charging decision had been made when he defended the call he made to Raffensperger as a legitimate request for a sitting president to make.
"I made a PERFECTLY LEGAL PHONE CALL, AS PRESIDENT OF THE UNITED STATES, ABOUT AN ELECTION THAT I STRONGLY FEEL WAS RIGGED AND STOLLEN," Trump wrote. "NONE of the MANY LAWYERS on the call minded my words, or even hinted at wrongdoing."
Former Lt. Gov. Geoff Duncan, one of the witnesses who testified before the grand jury Monday, called the investigation a "pivot point" in American politics.
"As Republicans, we either are going to have to take our medicine and realize the election wasn't rigged, Donald Trump was the worst candidate ever, in the history of the party … and now we are going to have to pivot from there," Duncan told reporters as he left the courthouse.
Earlier in the day Trump posted on Truth Social that Duncan shouldn't testify.
On July 31 a Fulton County judge rejected an attempt by Trump's attorneys to gut the district attorney's investigation before criminal charges were announced.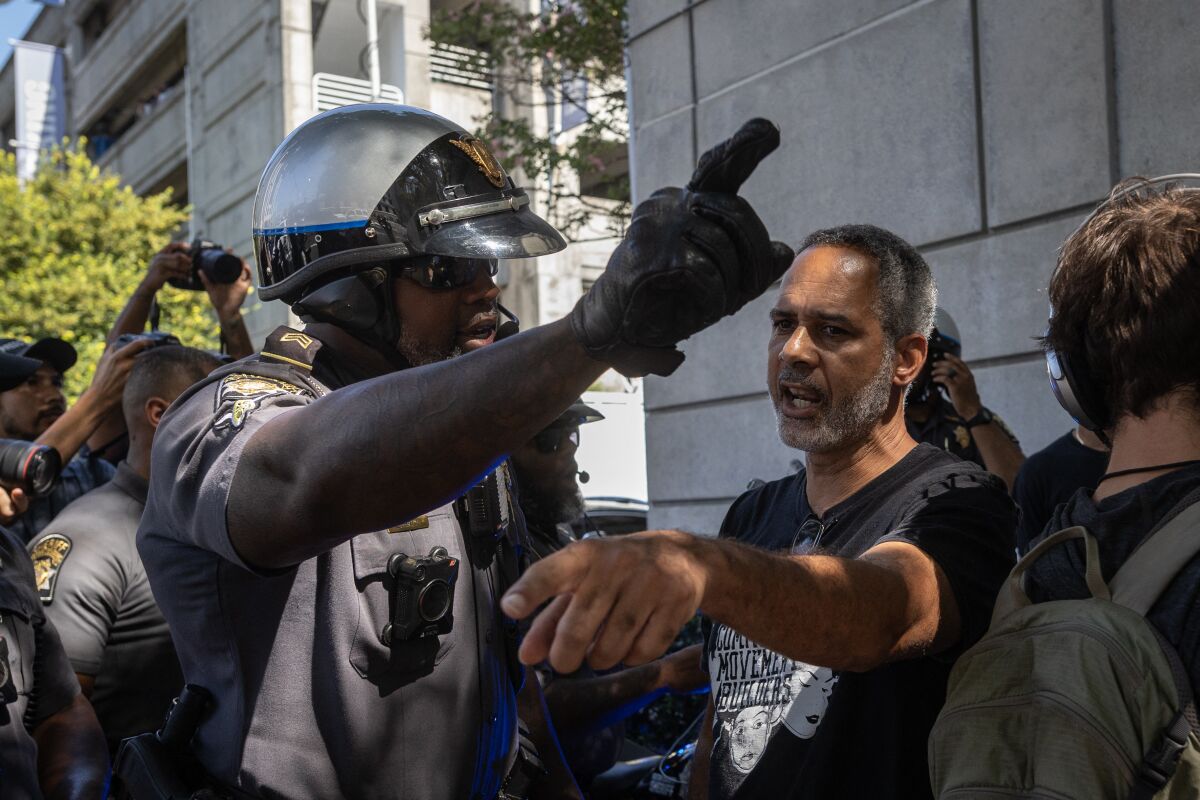 Security around the courthouse in Atlanta has increased over the last few weeks. On Tuesday, law enforcement will close security gates around the state Capitol for an "undetermined period of time" in anticipation of potential protests. Protesters gathered outside the statehouse after Trump lost in 2020.
Trump's indictment by a Georgia grand jury adds to a growing list of legal troubles amid his presidential campaign.
Trump was indicted Aug. 1 in Washington, D.C., following an investigation by special counsel Jack Smith into actions that Trump and his allies allegedly took to keep him in office despite losing the 2020 election. He was arraigned in that case on Aug. 3, pleading not guilty to all four felony charges.
Trump is also scheduled to go to trial in New York in March for state charges related to payments allegedly made during the 2016 presidential campaign to cover up an affair with porn actor Stormy Daniels. And he has another trial scheduled for May on 39 federal charges brought by Smith related to his retention of classified documents after he left office. He has pleaded not guilty in both cases.
Source link
Whether you're a startup or an established brand, business directories offer an affordable, yet powerful tool to elevate your brand recognition and reach. Sign up, stand out, and let your business soar to new heights, sign up to one of our directory websites:
Canyon Crest Directory
Riverside Ca Business Directory
The Riverside Coupon Directory
Newspaper Ads Canyon Crest CA
If you have questions before you order, give me a call @ 951-235-3518
or email @ canyoncrestnewspaper@gmail.com
Like us on Facebook Here
Canyon Crest Guide
5225 Canyon Crest Drive Ste.71 #854 Riverside CA 92507
Tony Ramos 951-235-3518
For great backlinks to your website sign up to one of our directory websites:
Canyon Crest Directory
Riverside Ca Business Directory
The Riverside Coupon Directory