EL MONTE, Calif. /California Newswire/ — Addmotor, a fast-growing manufacturer of electric mobility solutions, is thrilled to unveil its latest creation, the Grandtan M-340T Electric Trike. Designed specifically for urban commuters, this cutting-edge etrike is set to revolutionize how people travel within the cityscape. It offers a convenient, eco-friendly, and stylish transportation solution that enhances daily commuting experiences.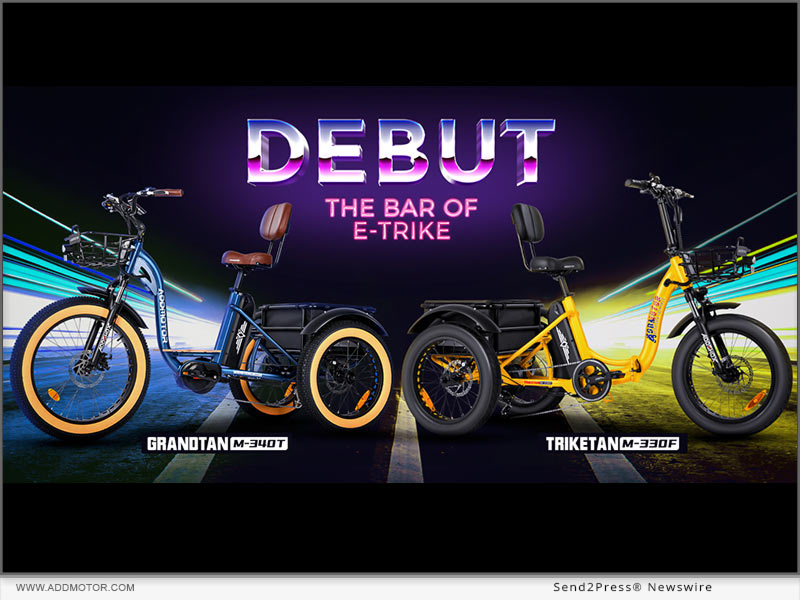 With the growing demand for sustainable urban mobility, Addmotor has responded by creating a cutting-edge electric trike that addresses the unique needs of city dwellers. The Grandtan M-340T combines advanced technology, superior craftsmanship, and a user-centric design to deliver an exceptional riding experience.
Key Features of the Grandtan M-340T Electric Trike:
Newspaper Ads Canyon Crest CA
With a host of upgraded features, the Grandtan M-340T is poised to provide an unparalleled riding experience, meeting the demands of urban commuting.
Differential Technology:
Grandtan M-340T Electric Trike sets itself apart from conventional etrikes with its innovative differential system. It is a mechanical device that enables the wheels on an axle to rotate at different speeds, providing better traction, stability, and seamless maneuverability.
In urban environments with too many crowds, tight corners, and uneven terrain, this differential feature ensures that the electric adult trike remains balanced, reducing the risk of tipping over. It also allows the Grandtan M-340T to easily navigate sharp turns, making it a breeze to maneuver through crowded city streets.
Another notable advantage of this differential technology is its capability to optimize power distribution, which helps in improving energy efficiency. By allocating power to the wheel with superior traction, this etrike minimizes energy waste and maximizes the distance it can cover on a single charge.
Parking Brake:
Addmotor recognizes the importance of safety and convenience for urban commuters. Hence, they have added another exceptional feature to their Grandtan M-340T, which is the all-new parking brake. The parking brake ensures that the etrike remains stable, preventing any accidental rolling and providing peace of mind to riders. The convenience and safety of the parking brake make it a valuable addition for those commuting in urban areas where parking spaces are scarce.
With a simple click of a button, riders can activate the parking brake, ensuring that the trike stays in place even on inclines or uneven surfaces. And the best part is that this feature acts as a deterrent and serves as an added layer of protection to the etrike against theft.
1000W Mid-Drive Motor:
Both power and performance are crucial for urban commuting, and the Grandtan M-340T excels in this aspect with its high-performance 1000W mid-drive motor. The mid-drive motor system offers several advantages over traditional hub motors, including improved weight distribution and a more natural riding experience.
With impressive torque and responsiveness, the Grandtan M-340T effortlessly tackles steep inclines and accelerates swiftly, making it the perfect companion for navigating bustling city streets. The increased power of the 1000W mid-drive motor ensures that riders can confidently and swiftly move through urban environments, saving time and energy.
Other Noteworthy Specifications and Benefits:
In addition to the upgraded features, the Grandtan M-340T etrike boasts several other noteworthy aspects that make it an ideal choice for urban commuters.
1 – Long-Lasting Battery: The M-340T has a reliable 48V x 20.0 AH battery system, providing a substantial range of 85+ on a single charge. This helps urban commuters to travel longer distances. The battery also charges relatively quickly, and it takes only 9 to 10 hrs to fully charge.
2 – Ready to Ride on Maximum Terrains: This etrike comes in 20 x 4 inches Kenda fat tires that incorporate layers of inner tube protector, high-volume inner tube, and an anti-slip cover tire. These robust tires make the Grandtan M-340T an ideally suited etrike for a wide range of terrains, including sand, rock, snow, etc.
3 – Comfortable and Ergonomic Design: Addmotor has prioritized rider comfort with the Grandtan M-340T. The etrike features a comfortable and ergonomic extra wide saddle plus an adjustable backrest position, reducing strain on the back and shoulders during longer rides. The rotatable U-shaped handlebars are also designed for optimal grip and control, ensuring a comfortable and stable riding experience. It also features a footrest wood board that supports the rider's feet completely.
4 – Cargo Capacity and Storage Options: Urban commuters often have the need to carry their belongings or groceries. The Grandtan M-340T addresses this need with its ample cargo capacity and storage options. It offers a front and rear cargo basket, allowing riders to transport their essentials while commuting through the city easily.
5 – Safety and Convenience: The Grandtan M-340t is integrated with an LED headlight and taillight for enhanced visibility during nighttime rides. Additionally, the trike is equipped with a step-thru frame and oil spring fork to ensure effective shock absorption when rolling over tough terrains.
"We are thrilled to introduce the Grandtan M-340T Electric Trike to urban commuters," said Jared Scott, CEO at Addmotor.
LEARN MORE: https://www.addmotor.com/collections/new-arrival
About Addmotor:
Addmotor is a renowned innovator and manufacturer of electric mobility solutions. Addmotor's commitment to providing a safe and enjoyable riding experience is evident in the Grandtan M-340T's design and performance. As electric trikes continue to revolutionize urban commuting, the Grandtan M-340T from Addmotor is a remarkable option that caters to the needs of modern city dwellers.
Learn more https://www.addmotor.com/
Learn More: https://www.addmotor.com/
This version of news story was published on and is Copr. © 2023 California Newswire® (CaliforniaNewswire.com) – part of the Neotrope® News Network, USA – all rights reserved.
Information is believed accurate but is not guaranteed. For questions about the above news, contact the company/org/person noted in the text and NOT this website.
Source link
Whether you're a startup or an established brand, business directories offer an affordable, yet powerful tool to elevate your brand recognition and reach. Sign up, stand out, and let your business soar to new heights, sign up to one of our directory websites:
Canyon Crest Directory
Riverside Ca Business Directory
The Riverside Coupon Directory
Newspaper Ads Canyon Crest CA
If you have questions before you order, give me a call @ 951-235-3518
or email @ canyoncrestnewspaper@gmail.com
Like us on Facebook Here
Canyon Crest Guide
5225 Canyon Crest Drive Ste.71 #854 Riverside CA 92507
Tony Ramos 951-235-3518
For great backlinks to your website sign up to one of our directory websites:
Canyon Crest Directory
Riverside Ca Business Directory
The Riverside Coupon Directory