A gunman who killed three people Wednesday night at a beloved local bar in Trabuco Canyon and wounded six others — including his estranged wife — was a former police officer, according to officials.
The Orange County Sheriff's Department identified the gunman as John Snowling, a retired Ventura police sergeant. When John Snowling, 59, came to Cook's Corner, his target was his wife, who was a regular at the bar on Santiago Canyon Road. He fired on her and then began "shooting randomly," Sheriff Don Barnes said Thursday afternoon.
Snowling entered the bar around 7 p.m. Wednesday during its weekly $8 spaghetti night — a family-friendly event — armed with two handguns, Barnes said. The retired cop walked up to his wife and immediately shot her once, wounding her, then shot the woman with whom she was dining. That woman, who has not been identified, later died.
Newspaper Ads Canyon Crest CA
There was no conversation or argument that preceded Snowling opening fire on his estranged wife, Barnes said.
"Mr. Snowling … then started randomly shooting at patrons within Cook's Corner," Barnes said. "That progressed to the outside area."
At one point, Snowling returned to his truck in an upper parking lot, where he was confronted by a man from the bar — whom Snowling also shot, Barnes said. That man, who also has not been identified, later died.
When deputies arrived — within two minutes of the first 911 call — they found Snowling in the parking lot, Barnes said. The former cop began firing at deputies, hitting multiple law enforcement vehicles.
A gunfight ensued, and "it was gunfire from those deputies that ultimately took the life" of Snowling, Barnes said. Orange County Dist. Atty. Todd Spitzer said seven deputies opened fire, firing at least 75 shots.
After the shooting, deputies recovered four weapons Snowling had brought to the scene: two pistols, a revolver and a shotgun, Barnes said. All were acquired legally.
Barnes identified one of the men who was killed as John Leehey, 67, of Irvine. He did not identify the two others who were killed, as officials have not yet notified next of kin.
The six people who were injured in the shooting were taken to Providence Mission Hospital in Mission Viejo on Wednesday night. Two were in critical condition — a man shot in the chest and a woman shot in the jaw, according to James Chisum, a spokesman for the hospital. The woman, believed to be Snowling's estranged wife, Marie Snowling, was transferred overnight to UC Irvine Medical Center, Chisum confirmed Thursday.
The four other victims, all men, were stable, Chisum said. One was released from the hospital late Wednesday, and two others with minor injuries were expected to be released Thursday. A fourth man, shot in the arm, was likely to have surgery Thursday.
No children or deputies were injured in the shooting.
The Sheriff's Department confirmed that Snowling's wife was among the injured.
Mark Johnson, pianist for the Orange County band that was performing at the bar Wednesday night, said two members of the M-Street Band "were hit and were hospitalized but stable." Johnson, drummer Brian Lynch and singer Debbie Johnson said in a video that guitarist Ed Means and bassist Dave Stretch were in the hospital. Lynch said they were "all going to be OK."
Officials declined to identify the other injured victims.
Barnes said investigators were still searching for a motive. Snowling, who used to share a home with his wife in Camarillo, was most recently living in Ohio, Barnes said. He recently traveled back to Southern California, and it wasn't immediately clear if he followed his estranged wife to the bar or found out she was going there, Barnes said.
On Thursday morning, heavily armed Orange County sheriff's deputies surrounded Snowling's home in the Camarillo neighborhood of El Capitan Place, not far from Adolfo Camarillo High School.
Deputies ordered any occupants to exit as they prepared to serve a search warrant. Two vehicles were in the driveway, but no one exited.
It wasn't immediately clear what deputies seized or hoped to find in the search.
Snowling worked for the Ventura Police Department from 1986 to 2014, rising to the rank of sergeant, according to a department spokesman. He served as the president of the city's police union in 2008 and 2009, records show.
In December 2022, Marie Snowling filed for divorce, writing that she had been estranged from her husband for two years, court filings show.
The couple had been married almost 32 years when they separated in November 2020, her attorney wrote, citing "irreconcilable differences" as the reason for the split. The case file contains no allegations of acrimony or abuse.
In February, John Snowling was served with the divorce papers in Newark, Ohio, records show. He had yet to respond to his wife's petition.
His attorney, Tristan Tegroen, told The Times he was shocked by the shooting Wednesday, given how measured and fair the divorce proceedings had been so far.
Tegroen noted he is accustomed to rancorous divorces, but said with the Snowlings, "there was nothing like that — nothing at all." As the lawyers in the case went about identifying and valuing their assets, Marie Snowling did not seek a restraining order against her husband, raise accusations of abuse or say she was fearful of him, he said.
Tegroen did not get the sense that any one issue had prompted the split, only that the two felt their marriage had run its course. "John was living in Ohio and she was here, and they were living apart," he said.
"Honestly, this came as a horrible shock to me," Tegroen said. "There was nothing on the radar to suggest he might do this."
Marie Snowling's lawyer, Kenneth Henjum, said his team was awaiting further information about her condition.
"The Snowling family is in shock at the events from last night and are requesting their privacy," Henjum said in a statement.
James Goldsmith, 68, lived two doors down from the Snowlings in Camarillo for more than two decades. Marie Snowling had moved out to live with her sick mother in Orange County a few years ago, he said, adding that he knew the couple had been going through "marital issues" but never heard any shouting or saw the police come by due to domestic disputes.
"John was always kind of a standoffish kind of person," Goldsmith said. "He wasn't the most personable guy, not that I can say that there was anything really negative. He wasn't the type of neighbor that you'd get the warm fuzzies from."
He described Marie Snowling as an "absolute sweetheart." She was the more social one of the couple, according to Goldsmith.
Goldsmith didn't know whether Marie had a new partner but said she often posted on Facebook about her life after filing for divorce.
"I think she wanted to have friends and live life, and that's why I think she made the move that she did," Goldsmith said. "It's sad that he couldn't allow that and let her live her own life."
Snowling had recently purchased a house in Ohio and was staying there most of the time, Goldsmith said. He most recently saw Snowling come back a few months ago to do some maintenance work on the house, he said.
Marie Snowling had moved to a mobile home community in Orange, where she'd recently become a manager, a job her late mother previously held, residents told The Times.
On Wednesday night, neighbor Mary Talian watched out her window, waiting for Snowling to come home. Talian, 82, knew her neighbor was at Cook's Corner because Marie often talked about the bar's spaghetti night.
"She loved to be around people, around music, and she loved to go out," Talian said.
"Marie would always take my calls," Talian said, adding that Snowling would often check on her and pick up her groceries. "That's how I knew that something was wrong last night, when she didn't call back."
Snowling was the perfect fit to manage the mobile home park, said Talian's daughter, Carol Franke.
"The first words out of her mouth are always, 'How are you?' or 'How are the kids?' She never talked about herself," Franke said. "Marie celebrated other people's wins. That's just who she is."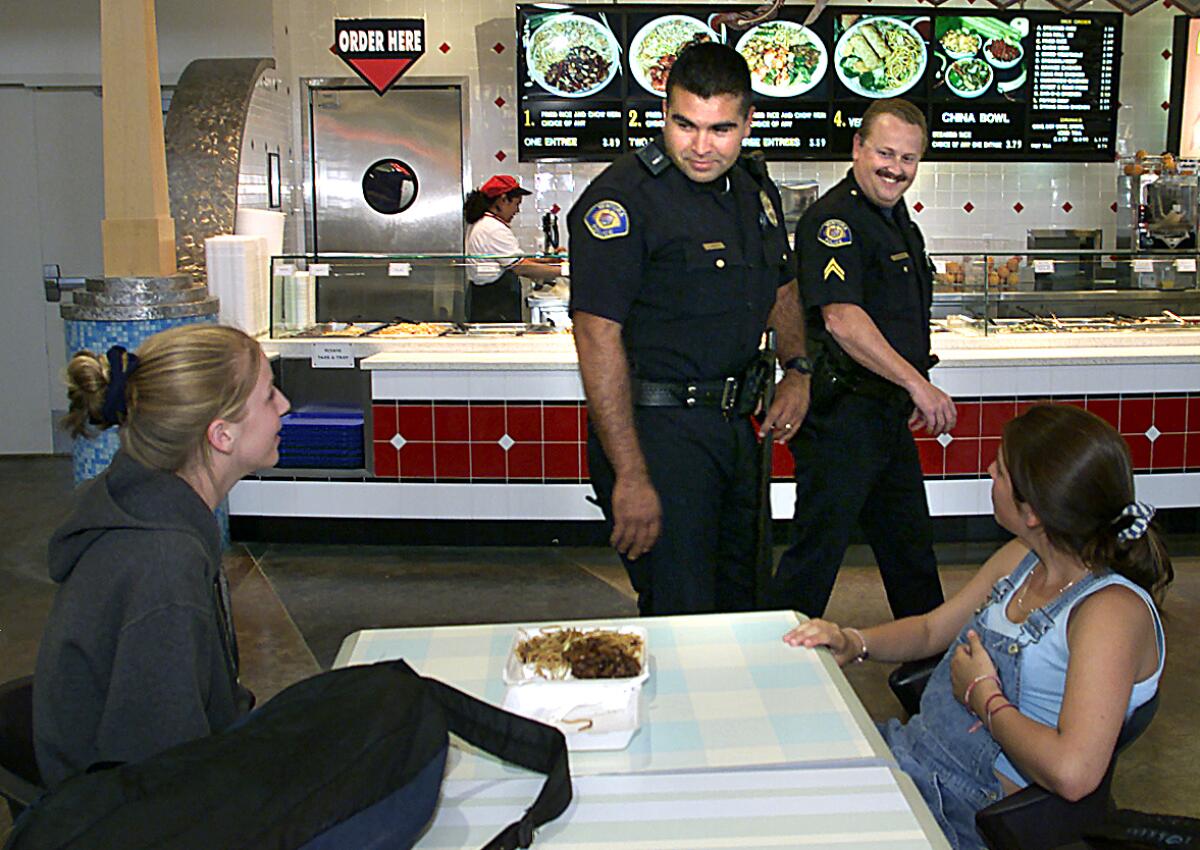 Denise Craft, another neighbor in Orange, described Marie Snowling as nice and personable. Craft knew about Snowling's divorce and how her estranged husband had taken custody of their dog.
Marie Snowling had recently confided in her that her that John Snowling was being very sweet lately, but she didn't know why.
"I told her to be cautious about that," Craft, 59, said.
Geoffrey Kagy, 52, a regular at Cook's Corner, said his girlfriend, Jacqueline Bass, was at the bar without him Wednesday night — but around 7:30 p.m. she suddenly sent Kagy a volley of text messages. The first said "911," followed by "Help" and "Omg." She'd been inside Cook's Corner when the gunman opened fire.
When they spoke by phone, Kagy said, "she just kept saying how she was running and that she saw somebody shoot."
At about 7:07 pm Wednesday, a dispatcher on the radio channel for local California Highway Patrol troopers said: "Male came in and started shooting. Eight shots were fired. White male. Plaid shirt and jeans. Still shooting. Possibly active shooter."
Emergency dispatchers reported hearing gunshots in the background of radio traffic as multiple deputies arrived at the bar, Orange County Undersheriff Jeff Hallock said at a late-night news conference Wednesday.
In a video posted to Facebook by Betty Fruichantie, a friend of Marie Snowling's, first responders are seen putting victims on gurneys to be taken to the hospital. Fruichantie wrote that the gunman fired "4 or 6 shots" at her but missed.
In the video, Fruichantie pans to a woman being wheeled away on a stretcher.
"Oh my God, Marie," she says.
Fruichantie mentioned in Facebook comments that she was sharing a table with Marie Snowling before the shooting and later learned that the gunman was her friend's estranged husband.
"He shot her in the face," she wrote. "They transported her to the ER."
Cook's Corner, which sits at the juncture of El Toro, Santiago Canyon and Live Oak Canyon roads near O'Neill Regional Park, is a popular haunt among local riders who want to avoid freeway congestion and enjoy the winding route to get there, and it's become a spot where families gather for an inexpensive weeknight dinner.
Orange County Supervisor Don Wagner said he was devastated by the shooting, and that it happened at an establishment that had become a cornerstone of the community.
"You hear Cook's Corner, 'Oh it's a biker bar,' and in many ways it is. You go out there you'll see motorcycles galore … because it's really fun to ride your bikes out there," Wagner said. "But the truth is that it's a family spot.
"It will be forever sad — there's no other word for it — that such a happy place will now go forward under the shadow of what happened last night," he said.
Gus Gunderman, 60, stopped by Cook's Corner on Wednesday evening for a bite to eat and left just minutes before the shooting started. The bar was filled with patrons sipping beers as the band prepared for its set. On the patio, families sat devouring large plates of spaghetti and salad.
Gunderman ordered a burger and a soda, not remembering it was all-you-can-eat spaghetti night. Looking back, he's grateful for that decision.
"Had I ordered spaghetti I would have gotten another plate or more salad, and then I would have been in the thick of it," Gunderman said. "It's a tragedy."
In the four decades he's frequented the eatery, Gunderman said he'd never once felt unsafe.
"I've never even seen a fight there. This could have happened anywhere," he said. "It has nothing to do with motorcycles or motorcycle culture."
News of the shooting brought concern from local officials and residents.
"I'm heartbroken by the news of yet another mass shooting tonight, this time at Cook's Corner, a historic bar in the heart of Orange County," state Sen. Dave Min (D-Irvine) said in a statement. "My heart breaks for the families and loved ones of the victims."
In a statement Thursday, Gov. Gavin Newsom said he "mourns for the victims of last night's horrific shooting."
He also urged Californians to utilize the state's red flag laws, especially in instances of domestic disputes, which can temporarily remove firearms from someone who poses a threat to themselves or others.
"We must continue to strengthen, defend, and use these laws," he said. "If you see red flags, say something — and in doing so, save lives."
Orange County Supervisor Katrina Foley echoed the governor's call for people to proactively respond to threats, stalking or domestic violence.
"It's disturbing to learn that another domestic dispute led to another mass shooting," Foley said. "We must do more to prevent senseless acts of gun violence and protect survivors."
"Our hearts weigh heavy with the distressing incident at Cook's Corner," Ventura Police Chief Darin Schindler said in a statement. "Our deepest condolences are with the families of the victims, the survivors, [and] the Orange County deputies who swiftly responded to the scene."
Ventura County Fire Capt. Brian McGrath said the Snowlings' son, Patrick, works for the department as a firefighter. "We are doing everything we can for him in his time of need," McGrath said.
Spitzer said his heart was "broken into a million pieces for the people who know and love Cook's Corner … and for the people who were subjected to this unspeakable act of violence."
On Thursday morning, Erwin Lima stood outside the police tape blocking the two-lane road that leads to Cook's Corner. The Victorville resident has worked weekends detailing motorcycles at Cook's Corner for more than 15 years and drove there hoping to learn anything he could about the condition of his co-workers and friends.
"I couldn't believe it when I started getting calls," said Lima, 54. "My body just shut down."
Marie Snowling frequented the bar most weekends for the live music, Lima said. Sometimes it would get so crowded that she'd bring her own chair so she'd have somewhere to sit.
"Everywhere now is shootings: schools, bars, church," he said.
Times staff writers Terry Castleman, Matthew Ormseth, Connor Sheets, Julia Wick, Noah Goldberg and Gabriel San Román contributed to this report.
Reach Out
Don't hesitate to reach out to us to discuss your specific needs. Our team is ready and eager to provide you with tailored solutions that align with your firm's goals and enhance your digital marketing efforts. We look forward to helping you grow your law practice online.
Our Services:
Blog Post Writing
We do well-researched, timely, and engaging blog posts that resonate with your clientele, positioning you as a thought leader in your domain.
Content Writing
Beyond articles and content for blogs, we delve into comprehensive content pieces like eBooks, and case studies, tailored to showcase your expertise.
Website Content Writing: First impressions matter. Our content ensures your website reflects the professionalism, dedication, and expertise you bring to the table.
Social Media Management
In today's interconnected world, your online presence extends to social platforms. We help you navigate this terrain, ensuring your voice is consistently represented and heard.
WordPress Website Maintenance
Your digital office should be as polished and functional as your physical one. We ensure your WordPress site remains updated, secure, and user-friendly.
For more information, ad placements in our attorney blog network, article requests, social media management, or listings on our top 10 attorney sites, reach out to us at seoattorneyservices@gmail.com.
Warm regards,
Whether you're a startup or an established brand, business directories offer an affordable, yet powerful tool to elevate your brand recognition and reach. Sign up, stand out, and let your business soar to new heights, sign up to one of our directory websites:
Canyon Crest Directory
Riverside Ca Business Directory
The Riverside Coupon Directory
Newspaper Ads Canyon Crest CA
If you have questions before you order, give me a call @ 951-235-3518
or email @ canyoncrestnewspaper@gmail.com
Like us on Facebook Here
Canyon Crest Guide
5225 Canyon Crest Drive Ste.71 #854 Riverside CA 92507
Tony Ramos 951-235-3518
For great backlinks to your website sign up to one of our directory websites:
Canyon Crest Directory
Riverside Ca Business Directory
The Riverside Coupon Directory